Presented by
---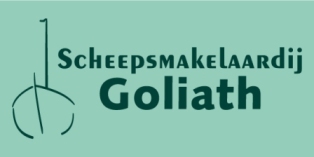 Sjoerd Kampen
Scheepsmakelaardij Goliath
Hendrik Bulthuisweg 2
8606 KB SNEEK
Netherlands
Description
---
Auto translate:
EN
Nice project for someone who loves to get down to business. The ship offers a lot of living space, is now habitable but there is much more to be made of it. More pictures on request.

There's no berth on this houseboat.
General
Hull shape: Round bilge
Steering system: Steering wheel: Yes with chain transmission
Engine, electrics, water
Cooling system: attending
NL
Leuk project voor iemand die van aanpakken houdt. Het schip biedt heel veel leefruimte, is nu bewoonbaar maar er is veel meer van te maken. Meer foto's op aanvraag.

Er zit geen ligplaats bij dit woonschip.
Algemeen
Rompvorm: Rondspant
Besturing: Stuurwiel: Ja met kettingoverbrenging
Waterverplaatsing: 55000
Doorvaarthoogte normaal: 485
Motor, electra, water
Vermogen: 300
Aantal identieke motoren: 1
Koeling: aanwezig
DE
Schönes Projekt für jemanden, der es liebt, zur Sache zu kommen. Das Schiff bietet viel Wohnraum, ist jetzt bewohnbar, aber es gibt noch viel mehr davon. Weitere Bilder auf Anfrage.

Auf diesem Hausboot gibt es keinen Liegeplatz.
Allgemein
Rumpfform: Runde Bilge
Steueranlage: Lenkrad: Ja, mit Kettenübertragung
Motor, Elektrik, Wasser
Kühlung: teilnehmend
FR
Un beau projet pour quelqu'un qui aime se lancer dans les affaires. Le navire offre beaucoup d'espace de vie, il est maintenant habitable mais il y a encore beaucoup à faire. Plus de photos sur demande.

Il n'y a pas de place sur cette péniche.
Général
Forme: Fond de cale rond
Système de barre: Volant : oui avec transmission par chaîne
Moteur, électricité, eau
Refroidissement: traitant
Details
---
Position only approximate, not for directions
General information
Make:
Woonboot
Model:
20.00
Year:
1956
Condition:
Used
Engine
Engine type:
Inboard engine
Measurements
Length:
19.99 m (65.58 ft)
Beam:
4.95 m (16.24 ft)
Deep:
1.9 m (6.23 ft)