Presented by
---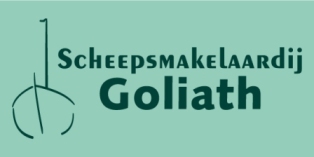 Sjoerd Kampen
Scheepsmakelaardij Goliath
Hendrik Bulthuisweg 2
8606 KB SNEEK
Netherlands
Description
---
Auto translate:
EN
Slim, light and therefore fast classic yacht with polyester mast and 7/8 rig
Long, sleek classic polyester sailing yacht from 1978. Osmosis treatment in May 2018. The owner has sailed the ship over several seas where the ship has proven to be very seaworthy. He also sailed a number of years on the Mediterranean. Very safe because of the center cockpit. All halyards and reefing lines can be operated from the cockpit.


Because of her slim line this ship weighs only just 6 tons and is therefore very fast. 10 knots sailing under sail is more the rule than the exception, higher speeds up to 15 knots are common with more wind. Sleeping accommodation for 5 people available (2 fore cabin and 3 saloon) possibly expandable to 7 people. A fine family ship for a sailing family!

Ship, 7/8 rig, fiberglass mast and sails are in good condition. Engine is overhauled in 2005 and there is a heat exchanger connected, propeller shaft has 3-blade maxprop screw (1996) with minimal resistance.
Check https://vangis.wixsite.com/wasa55forsale for description of ship.
Check for reports and pictures of travels of the owner Joost: http://wasa55nevermind5.blogspot.com/?view=timeslide
General
Other:
Teak deck needs attention,
Accommodation
Material, colours: Teak
Engine, electrics, water
Year: revision in 2005
Propulsion: MaxProp 1996
Rig and sails
Sailplan type: 7/8 rigging
Winches: Electric anchor winch, foredeck and cockpit operation
Genoa: furling genoa with UV track, light weather genoa 48 m2
Other:
Mainsail cover and sprayhood of wine red sailcloth, 3 headsails of which 1 with wine red UV track, light weather genoa. Stainless steel rigging and polyester mast with 7/8 rig. All halyards and reefing lines can be operated from the cockpit. Electric anchor winch operated from cockpit and forepeak.
Navigation and electronics
Other:
Complete set of wind meters, AIS and Epirb on board. Glass of compass needs to be polished.
NL
Slank, licht en dus snel klassiek zeiljacht met polyester mast en 7/8 tuigage
Lang, slank klassiek polyester zeiljacht uit 1978. Osmosebehandeling in mei 2018. De eigenaar heeft het schip over verschillende zeëen gevaren waarbij het schip zeer zeewaardig is gebleken. Er is door hem ook een aantal jaren mee op de Middellandse Zee gezeild. Door middenkuip is dit schip zeer veilig. Alle vallen èn reeflijnen kunnen vanuit de kuip worden bediend.


Door haar slanke lijn weegt dit schip maar net 6 ton en is daarom zeer snel. 10 knopen varen onder zeil is meer regel dan uitzondering, Hogere snelheden  tot 15 knopen komen bij meer wind  regelmatig voor. Slaapplaatsen voor 5 personen aanwezig (2 vooronder en 3 salon) eventueel uit te breiden tot 7 personen. Een fijn familieschip voor een zeilersfamilie!

Schip, 7/8 tuigage, fiberglass mast en zeilen zijn in goede staat. Motor is in 2005 gereviseerd en er is een warmtewisselaar op aangesloten, schroefas heeft 3-blads maxprop schroef (1996) met minimale weerstand. 
Check https://vangis.wixsite.com/wasa55forsale voor omschrijving van het schip. 
Check voor verslagen en foto's van reizen van de eigenaar Joost: http://wasa55nevermind5.blogspot.com/?view=timeslide
Algemeen
Overig:
Achterkajuit biedt plaats aan 2 personen. Vooronder biedt eveneens plaats aan 2 personen.
Accommodatie
Materiaal, kleuren: Warm teak en mahonie
Hutten: voorpiek, achterkajuit, salon
Overig:
Klassiek interieur met kooien in lengterichting van het schip. 2 vaste slaapplaatsen voorin, 2 vaste slaapplaatsen in salon, 1 vaste hondekooi, 2 extra slaapplaatsen op omhooggeklapte rugleuningen van salonbanken en 2 vaste slaapplaatsen in achterkajuit.
Motor, electra, water
Bouwjaar: revisie in 2005
Voortstuwing: MaxProp 1996
Verbruik: bij 5 knopen
Oliedrukmeter: oliedruk alarm
Temperatuurmeter: temperatuur alarm
Tuigage
Type tuigage: 7/8 tuigage
Rondhouten, verstaging: mast van glasvezel / fiberglass
Lieren: Elektrische ankerlier, op voordek en in kuip te bedienen
Genua: rolgenua met UV-baan, lichtweergenua 48 m2
Overig:
3 voorzeilen. RVS verstaging en polyester mast met 7/8 tuigage. Alle vallen èn reeflijnen zijn vanuit kuip te bedienenen. Elektrische ankerlier bedienbaar voorop en vanuit kuip. 
Grootzeilhuik lichtgrijs, buiskap, bimini, zonnezeil, en UV-baan rolgenua bordeauxrood. 
Navigatie en electronica
Overig:
Complete set windmeters, AIS en Epirb aan boord. 
DE
Schlanke, leichte und dadurch schnelle klassische Segelyacht mit Polyestermast und 7/8-Rigg.
Lange, schnittige klassische Polyester-Segelyacht aus dem Jahr 1978. Osmosebehandlung im Mai 2018. Der Eigner hat das Schiff über mehrere Meere gesegelt, wo sich das Schiff als sehr seetüchtig erwiesen hat. Er segelte auch einige Jahre auf dem Mittelmeer. Sehr sicher durch das Mittelcockpit. Alle Fallen und Reffleinen können vom Cockpit aus bedient werden.


Durch seine schlanke Linie wiegt dieses Schiff nur knapp 6 Tonnen und ist daher sehr schnell. 10 Knoten unter Segel sind eher die Regel als die Ausnahme, höhere Geschwindigkeiten bis zu 15 Knoten sind bei mehr Wind üblich. Schlafgelegenheit für 5 Personen (2 im Bug und 3 im Salon), eventuell erweiterbar auf 7 Personen. Ein schönes Familienschiff für eine segelnde Familie!

Schiff, 7/8 Rigg, Glasfasermast und Segel sind in gutem Zustand. Der Motor ist 2005 überholt und es ist ein Wärmetauscher angeschlossen, die Propellerwelle hat eine 3-Blatt-Maxprop-Schraube (1996) mit minimalem Widerstand.
Unter https://vangis.wixsite.com/wasa55forsale finden Sie eine Beschreibung des Schiffes.
Schauen Sie nach Berichten und Bildern von Reisen des Besitzers Joost: http://wasa55nevermind5.blogspot.com/?view=timeslide
Allgemein
Sonstiges:
Das Teakdeck braucht Aufmerksamkeit.

Innenausstattung
Material, Farben: Teakholz
Motor, Elektrik, Wasser
Baujahr: Überarbeitung im Jahr 2005
Antrieb: MaxProp 1996
Besegelung & Rigg
Typ: 7/8 Takelage
Winden: Elektrische Ankerwinde, Bedienung auf dem Vordeck und im Cockpit
Genua: Rollgenua mit UV-Schot, Leichtwettergenua 48 m2
Sonstiges:
Großsegel und Sprayhood aus weinrotem Stoff, 3 Vorsegel, davon 1 mit weinroter UV-Linie, Leichtwettergenua. Edelstahltakelage und Polyestermast mit 7/8-Takelage. Alle Fallen und Reffleinen können vom Cockpit aus bedient werden. Elektrische Ankerwinde, die vom Cockpit aus nach vorne und nach hinten bedient wird.

Nautische Instrumente
Sonstiges:
Kompletter Satz von Windmessern, AIS und Epirb an Bord. Das Glas des Kompasses muss poliert werden.
>
FR
Voilier classique mince, léger et donc rapide avec un mât en polyester et un gréement 7/8.
Long et élégant voilier classique en polyester de 1978. Traitement par osmose en mai 2018. Le propriétaire a fait naviguer le navire sur plusieurs mers où le navire s'est avéré être en très bon état de navigabilité. Il a également navigué pendant plusieurs années sur la Méditerranée. Très sûr grâce au cockpit central. Toutes les drisses et les prises de ris peuvent être actionnées depuis le cockpit.


Grâce à sa ligne élancée, ce navire ne pèse que 6 tonnes et est donc très rapide. Naviguer à 10 nœuds sous voile est plus la règle que l'exception, des vitesses plus élevées jusqu'à 15 nœuds sont courantes avec plus de vent. Couchage pour 5 personnes (2 à l'avant et 3 dans le salon), éventuellement extensible à 7 personnes. Un excellent navire pour une famille de navigateurs !

Navire, 7/8 rig, mât en fibre de verre et les voiles sont en bon état. Le moteur est révisé en 2005 et il y a un échangeur de chaleur connecté, l'arbre d'hélice a une vis maxprop à 3 pales (1996) avec une résistance minimale.
Consultez https://vangis.wixsite.com/wasa55forsale pour la description du navire.
Consultez les rapports et les photos des voyages du propriétaire Joost : http://wasa55nevermind5.blogspot.com/?view=timeslide.
Général
Autre:
.

Aménagement
Matériau, couleurs: Teck
Moteur, électricité, eau
Année de construction: révision en 2005
Transmission: MaxProp 1996
Gréement et voiles
Type: Gréement 7/8
Winches: Guindeau électrique, fonctionnement sur le pont avant et dans le cockpit
Génois: génois sur enrouleur avec feuille UV, génois de petit temps 48 m2
Autre:

Grande voile et capote en tissu rouge vin, 3 voiles d'avant dont 1 avec bande UV rouge vin, génois de petit temps. Gréement en acier inoxydable et mât en polyester avec gréement 7/8. Toutes les drisses et les prises de ris peuvent être actionnées depuis le cockpit. Guindeau électrique actionné à l'avant et à l'arrière depuis le cockpit.

Navigation et électronique
Autre:
Jeu complet d'anémomètres, AIS et Epirb à bord. Le verre de la boussole doit être poli.







Details
---
Position only approximate, not for directions
General information
Make:
Wasa 55
Model:
Vinkiel
Year:
1978
Condition:
Used
Engine
Engine:
met intercooler!
Engine type:
Inboard engine
Measurements
Length:
13.5 m (44.29 ft)
Beam:
2.5 m (8.20 ft)
Deep:
1.95 m (6.40 ft)