Presented by
---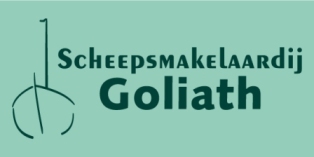 Sjoerd Kampen
Scheepsmakelaardij Goliath
Hendrik Bulthuisweg 2
8606 KB SNEEK
Netherlands
Description
---
Auto translate:
EN
Residential rush hour with empty hold
The current owner wants to sell the ship after 20 years. Has sailed with it commercially. The ship is certified until 21 October 2025.
General
Steering system: manual/electric
Accommodation
Saloons: Salon with open kitchen
Cabins: Main house and front house
Cooker & fuel: gas oil 2400 liters and 300 liters
Shortwave radio: Pilot RZ
Engine, electrics, water
Engine hours: 11-2012
Water tank & material: tachograph, pumps
Other:
The engine was built in 1985, installed in 2002 and overhauled in 2012.
Rig and sails
Winches: Oil bath at the front and wire winch at the back
NL
Woonspits met leeg ruim
De huidige eigenaar wil het schip na 20 jaar verkopen. Heeft er bedrijfsmatig mee gevaren. Het schip is gecertificeerd tot 21 oktober 2025. 
Algemeen
Besturing: hand/elektrisch
Accommodatie
Verblijfsruimtes: Salon met open keuken
Hutten: Hoofdwoning en voorwoning
Kooktoestel & brandstof: gasolie 2400 liter en 300 liter
Korte golf radio: Piloot RZ
Motor, electra, water
Draaiuren: 11-2012
Watertank & materiaal: tachograaf, pompen
Overig:
De motor is in 1985 gebouwd, in 2002 geplaatst en in 2012 gereviseerd. 
Tuigage
Lieren: Oliebad voorop en draadlier achterop
DE
Rushhour mit leerem Laderaum zu Hause
Der jetzige Besitzer will das Schiff nach 20 Jahren verkaufen. Ist damit kommerziell gesegelt. Das Schiff ist bis zum 21. Oktober 2025 zertifiziert.
Allgemein
Steueranlage: manuell/elektrisch
Innenausstattung
Aufenthaltsräume: Salon mit offener Küche
Kabinen: Haupthaus und Vorderhaus
Kocher: Gasöl 2400 Liter und 300 Liter
Kurzwellenradio: Pilot RZ
Motor, Elektrik, Wasser
Betriebsstunden: 11-2012
Wassertank: Fahrtenschreiber, Pumpen
Sonstiges:
Der Motor wurde 1985 gebaut, 2002 eingebaut und 2012 überholt.
Besegelung & Rigg
Winden: Ölbad an der Vorderseite und Seilwinde an der Rückseite
FR
Heure de pointe résidentielle avec cale vide
Le propriétaire actuel veut vendre le navire après 20 ans. Il a navigué avec elle dans le commerce. Le navire est certifié jusqu'au 21 octobre 2025.
Général
Système de barre: manuel/électrique
Aménagement
Séjour: Salon avec cuisine ouverte
Cabines: Maison principale et maison avant
Cuisinière: gasoil 2400 litres et 300 litres
: Pilote RZ
Moteur, électricité, eau
Heures: 11-2012
Réservoir d'eau: tachygraphe, pompes
Autre:
Le moteur a été construit en 1985, installé en 2002 et révisé en 2012.
Gréement et voiles
Winches: Bain d'huile à l'avant et treuil à l'arrière.
Details
---
Position only approximate, not for directions
General information
Make:
Spits
Model:
39.00
Year:
1964
Condition:
Used
Engine
Engine type:
Inboard engine
Measurements
Length:
39 m (127.95 ft)
Beam:
5.1 m (16.73 ft)
Deep:
1 m (3.28 ft)