Presented by
---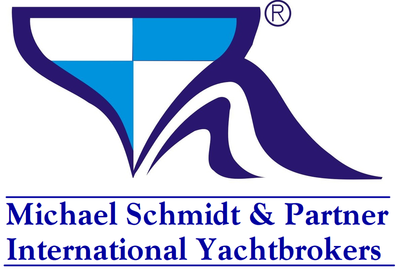 Jan Spengler
Michael Schmidt & Partner Yachthandels GmbH
Rübekamp 5
25421 Pinneberg
Germany
Description
---
Auto translate:
EN
cutter rigged Ketch.

Electronic tools for navigation:
AIS, Rudder angle indicator, Radar Antenna, DSC vhf, MeteoFax.

Staging and technical:
Engine Alarm, Water pressure pump, Batteries (4 x 160 Ah Gel), Deck Shower, Crane, Solar panels, Gangway, Automatic Bilge Pump, Manual Bilge Pump, Shorepower connector, Electric Windlass, swimming ladder, cockpit table, guard rails with gates, Windex.

Domestic Facilities onboard:
Warm Water System, Waste Water Plant, 12V Outlets, 220V Outlets, 2 Manual Toilet (LAVAC).

Entertainment:
Speakers, Hi-Fi.

Sails accessories:
2 Jib Furling System (2 x Bamar), Mainsail Furling System (2 x Bamar), Mainsheet traveller, 2 Vang.

Kitchen and appliances:
Galley, Burner, Washer.

Upholstery:
Hull Cover, Cushions.


IT
cutter rigged Ketch.

Strumentazione elettronica di navigazione:
AIS, Angolo barra, Antenna radar, DSC vhf, MeteoFax.

Allestimento tecnico e di coperta:
Allarme motore, Autoclave, Batterie (4 x 160 Ah Gel), Doccia esterna, Gruette, Pannelli Solari, Passerella, Pompa di sentina automatica, Pompa di sentina manuale, Presa 220V banchina, Salpa Ancore Elettrico, Scaletta da bagno, Tavolo pozzetto, Tientibene con cancelletti, Windex.

Dotazioni domestiche di bordo:
Boiler, Impianto acque nere, Prese interne 12v, Prese interne 220v, 2 WC marino manuale (LAVAC).

Intrattenimento:
Altoparlanti, Stereo.

Accessori vele:
2 Avvolgi Fiocco (2 x Bamar), Avvolgi Randa (2 x Bamar), Trasto randa, 2 Vang rigido.

Cucina ed elettrodomestici:
Cucina, Fornello, Lavatrice.

Tappezzerie:
Copriscafo, Cuscineria completa.


FR
cutter gréé Ketch.

Appareillage électronique de navigation:
AIS, Indicateur d'angle de barre, Antenne radar, DSC VHF, MeteoFax.

Equipement technique et de pont supérieur:
Alarme moteur, Eau sous pression, Batteries (4 x 160 Ah Gel), Douche de cockpit, Bossoirs, Panneau solaire, Passerelle, Pompe de cale automatique, Pompe de cale manuelle, Prise de quai, Guindeau électrique, Echelle de bain, table de cockpit, Filières avec sortie latèrale, Windex.

Equipement domestique de bord:
Ballon d'eau chaude, Cuve à eaux noires, Prises interieures 12v, Prises interieures 220v, 2 Toilettes manuelles (LAVAC).

Divertissements:
Haut-parleurs, Hi-Fi.

Accessoires voiles:
2 Enrouleur de foc (2 x Bamar), Enrouleur de grand voile (2 x Bamar), barre d'écoute, 2 halebas.

Cuisine et appareils électromenagers:
Cuisine, Cuisinière, Lave-linge.

Tapisserie:
Taud d'hivernage, Sellerie complète.


DE
Ketch mit Kuttertakelung, sehr sehr guter Zustand

Navigation elektronische Instrumentation:
AIS, Ruderlageanzeiger, Radarantenne, DSC UKW, Navtex Empfaenger.

Deck und technische Ausrüstung:
Motoralarm, Druckwasserpumpe, Batterien (4 x 160 Ah Gel), Cockpitdusche, Davits, Solarpanel, Gangway, automatische Bilgepumpe, manuelle Bilgepumpe, Landanschluß, elektrische Ankerwinde, Badeleiter, Cockpittisch, Relingsdurchstiege, Windex.

Anlagen an Bord:
Warmwasserbereiter, Faekalientank, 12V Steckdose, 220V Steckdose, 2 manuelles WC (LAVAC).

Unterhaltung:
Lautsprecher, Stereoanlage.

Zubehör Sails:
2 Rollfockanlage (2 x Bamar), Rollgross (2 x Bamar), Grosschottraveller, 2 Baumniederholer.

Küchen-und Haushaltsgeräte:
Pantry, Herd, Waschmaschine.

Polsterung:
Ganzpersenning, Polster.


ES
cortador amañado Ketch.

Instrumentación electrónica de navegación:
AIS, Indicado de ángulo de timón, Antena de radar, VHF con DSC, Meteo fax.

Equipo técnico y de cubierta:
Alarma motor, Bomba de agua dulce, Baterías (4 x 160 Ah Gel), Ducha externa, Grúa, Paneles solares, Pasarela, Bomba de achique automática, Bomba de achique manual, Toma de 220V para el puerto, Molinete eléctrico, Escalera de baño, mesa de bañera, Guardamancebos con entradas, Windex.

Enseres domesticos de abodo:
Calentador, Instalación aguas negras, Tomas de 12v, Enchufes de 220v, 2 WC marino manual (LAVAC).

Entretenimiento:
Altavoces, Stereo.

Accesorios Velas:
2 Enrollador de foque (2 x Bamar), Enrollador de mayor (2 x Bamar), Caro de escota de mayor, 2 Contra.

Cocina y electrodomésticos:
Cocina, Fogón, Lavadora.

Tapicerías:
Funda del barco, Cojinería completa.


RU
резак оснастили Кетч.

Электронные навигационные приборы:
AIS, Угол поворота, антенна РЛС, DSC, МетеоФакс.

Техническое оснащение и оснащение палубы:
Аварийный сигнал двигателя, Автоклав, аккумуляторы (4 x 160 Ah Gel), внешняя душа, малые Давид, Солнечные панели, сходни, Автоматический трюмный насос, Ручной трюмный насос, Прямая розетка от причала, Электрическая якорная лебедка, Трап ванной, cockpit table, guard rails with gates, Windex.

Бытовое оснащение на борту:
котлом, Установка для сточных вод, Внутренние розетки 12v, Внутренние розетки 220v, 2 Ручной морской туалет (LAVAC).

Развлечения:
динамиков, Привет-Fi.

Аксессуары паруса:
2 Устройство кливер (2 x Bamar), Устройство для гафельного паруса (2 x Bamar), Mainsheet traveller, 2 Ванг.

Кухня и бытовые приборы:
Кухня, плитой, Стиральная машина.

Обивка:
Покрыв корпуса, полное подушки.



Details
---
Position only approximate, not for directions
General information
Make:
Shin Hsing Yacht Building Co.LTD
Model:
Delta 46
Year:
1990
Condition:
Used
Engine
Engine:
Ford Lehman, 90 hp
Fuel type:
Diesel
Fuel tank:
500 l (132.09 gal)
Measurements
Length:
13.92 m (45.67 ft)
Beam:
4.06 m (13.32 ft)
Deep:
1.98 m (6.50 ft)
Weight:
13600 kg (29,982.36 lb)