Presented by
---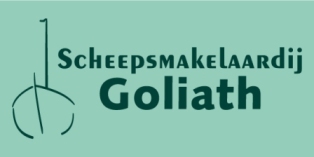 Sjoerd Kampen
Scheepsmakelaardij Goliath
Hendrik Bulthuisweg 2
8606 KB SNEEK
Netherlands
Description
---
Auto translate:
EN
.
Push and pull boat suitable for use up to 12 people. Vertical clearance approx. 3.80. Displacement approx. 80 tons. Underwatership has been renewed. Certificate for barges valid until 31-05-2026. Surface report available.
NL
.
Duw- en sleepboot geschikt voor gebruik tot 12 personen. Doorvaarthoogte ca. 3.80. Waterverplaatsing ca. 80 ton. Onderwaterschip is vernieuwd. Certificaat voor Binnenschepen geldig tot 31-05-2026. Vlakrapport aanwezig. 
DE
.
Schub- und Zugboot für bis zu 12 Personen. Vertikaler Abstand ca. 3,80. Verdrängung ca. 80 Tonnen. Die Unterwasserschaft wurde verlängert. Zertifikat für Binnenschiffe gültig bis 31-05-2026. Oberflächenbericht verfügbar.
FR
.
Bateau à pousser et à tirer pouvant accueillir jusqu'à 12 personnes. Dégagement vertical d'environ 3,80. Déplacement d'environ 80 tonnes. Underwatership a été renouvelé. Certificat pour les barges valable jusqu'au 31-05-2026. Rapport de surface disponible.
Details
---
Position only approximate, not for directions
General information
Make:
Motorsleepboot
Year:
1983
Condition:
Used
Engine
Engine type:
Inboard engine
Measurements
Length:
18.25 m (59.88 ft)
Beam:
5.05 m (16.57 ft)
Deep:
2.08 m (6.82 ft)