Presented by
---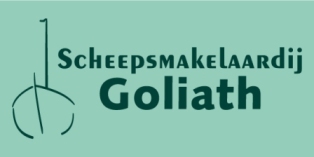 Sjoerd Kampen
Scheepsmakelaardij Goliath
Hendrik Bulthuisweg 2
8606 KB SNEEK
Netherlands
Description
---
Auto translate:
EN
Charter clipper
After 30 years of sailing the Manna, the plug is going out. The current (4th) owners are clear. It has been enough. The Manna is a sailing monument from 1897. A ship at that time without engine and sails. A so called drag clipper of iron.
Suitable for habitation in a museum port in the Netherlands. It is even possible to get an A-status for it but then the masts have to be removed.
As company vessel the ship can of course also be taken over. Suitable for 34 passengers during multi-day trips and up to 60 passengers during day trips. The ship has been surveyed and certified to sail with guests. The certification runs until 2023.
More information and pictures will follow as soon as possible.
General
Windows: yeah
Ballast: asphalt under day room and concrete in forepeak
Accommodation
Saloons: 11 cabins
Headroom: 60 day passengers
Cooker & fuel: 6 wicks in day room and 4 wicks in roof
Engine, electrics, water
Year: Year of manufacture of the engine is unknown
Cooling system: Cooling
Water tank gauge: gauge glass
NL
Charter klipper
De Manna is een varend monument uit 1897. Een schip toendertijd zonder motor. Een zogenaamde sleepklipper van ijzer.
Geschikt voor bewoning in een museumhaven in Nederland. Er is zelf een A status voor te krijgen maar dan moeten de masten eraf.  
Er zijn 34 bedden voor gasten. In het achteronder zijn twee bedden en in het vooronder is een twijfelaar.
In de loop der jaren heeft de huidige eigenaar behoorlijk wat geinvesteerd en is er nooit bezuinigd op het schip.
2013 is er één nieuwe hut gemaakt comform nieuwbouw (4 persoons tegenover de keuken) 
2014 zijn er brandschotten ter voorkoming van vuurtunnels aangebracht en zijn er brandwerende deuren geplaatst.
2015 nieuwe dekkleden
2016 nieuw giek grootzeil en bezaan, nieuwe steng en set nieuwe tractie accu's
2017 motor-, kop- en keerkoppelingrevisie
2018 nieuwe ingang, schroef vervangen, brandblusinstallatie aangebracht en een nieuw grootzeil aangeschaft.
2019 nieuwe keuken dagverblijf, nieuw fornuis, reserve keerkoppeling en nieuwe centrale brandmeldinstallatie
2020 reling, bezaan, fok en kluiver vernieuwd
2021 fokkeboom en kluiverboom vernieuwd
Als bedrijfsvaartuig kan het schip natuurlijk ook overgenomen worden. Geschikt voor 34 passagiers tijdens meerdaagse tochten en aan 60 passagiers tijdens dagtochten. Het schip is gekeurd en gecertificeerd om met gasten te mogen varen. De certificering loopt nog door tot in 2023. 
Algemeen
Ramen: ja
Ballast: asfalt onder dagverblijf en beton in de voorpiek
Accommodatie
Verblijfsruimtes: 11 hutten
Stahoogte: 60 dagpassagiers
Kooktoestel & brandstof: 6 pitten in dagverblijf en 4 pitten in roof
Motor, electra, water
Bouwjaar: bouwjaar van de motor is onbekend
Koeling: beunkoeling
Watertankmeter: peilglas
DE
Charter-Clipper
Nach 30 Jahren Fahrt mit der Manna geht der Stecker raus. Die aktuellen (4.) Eigentümer sind klar. Es hat gereicht. Die Manna ist ein Segeldenkmal aus dem Jahr 1897. Ein Schiff ohne Motor und Segel zu dieser Zeit. Ein sogenannter Schleppklipper aus Eisen.
Geeignet für das Wohnen an Bord in einem Museumshafen in den Niederlanden. Es ist sogar möglich, einen A-Status dafür zu bekommen, aber dann müssen die Masten entfernt werden.
Als Firmenschiff kann das Schiff natürlich auch übernommen werden. Geeignet für 34 Passagiere bei Tagesausflügen und 60 Passagiere bei Tagesausflügen. Das Schiff ist vermessen und zertifiziert, um mit Gästen zu fahren. Die Zertifizierung läuft bis 2023.
Weitere Informationen und Bilder folgen so bald wie möglich.
Allgemein
Fenster: ja
Ballast (kg): Asphalt unter Aufenthaltsraum und Beton in der Vorpiek
Innenausstattung
Aufenthaltsräume: 11 Kabinen
Stehhöhe: 60 Tage Fahrgäste
Kocher: 6 Gruben im Aufenthaltsraum und 4 Gruben im Dach
Motor, Elektrik, Wasser
Baujahr: Herstellungsjahr des Motors ist unbekannt
Kühlung: Kühlung
Wassertankanzeige: Schauglas
FR
Clipper charter
Après 30 ans de navigation sur la Manne, la prise s'éteint. Les propriétaires actuels (4ème) sont clairs. Cela a été suffisant. Le Manna est un monument à voile de 1897. Un navire sans moteur et sans voiles à cette époque. Un soi-disant clipper de fer.
Convient pour vivre à bord dans un port musée aux Pays-Bas. Il est même possible d'obtenir un statut A, mais il faut alors enlever les mâts.
En tant que navire d'entreprise, le navire peut bien sûr aussi être repris. Convient pour 34 passagers pendant les excursions d'une journée et pour 60 passagers pendant les excursions d'une journée. Le navire est inspecté et certifié pour naviguer avec des invités. La certification est valable jusqu'en 2023.
De plus amples informations et des photos suivront dès que possible.
Général
Vitres: ouais
Lest: asphalte sous le local de jour et béton dans le coqueron avant
Aménagement
Séjour: 11 cabines
Hauteur sous barreaux: Passagers de 60 jours
Cuisinière: 6 fosses dans la salle de séjour et 4 fosses dans le toit
Moteur, électricité, eau
Année de construction: L'année de fabrication du moteur est inconnue
Refroidissement: Refroidissement
Jauge de réservoir d'eau: verre de jauge
Details
---
Position only approximate, not for directions
General information
Make:
Klipper
Model:
42.00
Year:
1897
Condition:
Used
Engine
Engine type:
Inboard engine
Measurements
Length:
42 m (137.80 ft)
Beam:
6.04 m (19.82 ft)
Deep:
1.5 m (4.92 ft)