Presented by
---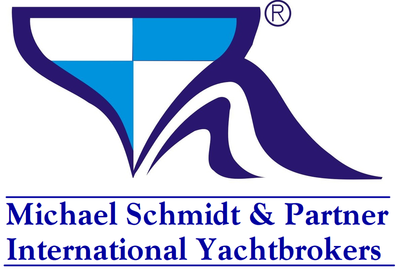 Jan Spengler
Michael Schmidt & Partner Yachthandels GmbH
Rübekamp 5
25421 Pinneberg
Germany
Description
---
Auto translate:
EN
Available from the end of the 2021 season!

Electronic tools for navigation:
AIS, Rudder angle indicator, 2 Compass, chronometer, 3 Display, DSC vhf, Autopilot (Raymarine), 2 Plotter with GPS antenna (Raymarine).

Staging and technical:
Engine Alarm, Bilge Alarm, 2 Anchor (Jumbo), Water pressure pump, 10 Batteries, Teak Side Decks, Deck Shower, Twin Steering, Pannelli Solari, Gangway, Platform, Automatic Bilge Pump, Teak Cockpit, Shorepower connector, Electric Windlass, Gang Board, swimming ladder, Outboard Engine Support Bracket, Tender, guard rails with gates.

Domestic Facilities onboard:
Warm Water System, 2 12V Outlets, 6 220V Outlets, Heater (Webasto), 4 Manual Toilet.

Security equipment:
Barometer (+ Uhr), Binoculars, Nautical charts, First aid kit, 8 Life Jackets (Automatik), Emergency Handheld Fires, Parachute flares with red light, Radar reflector, Chart tools.

Entertainment:
4 Speakers, Hi-Fi.

Sails accessories:
Gennaker equipment, Jib Furling System, Mainsail Furling System, Mainsheet traveller.

Kitchen and appliances:
2 Refrigerator, 2 Mechanical Refrigerator, Coffee Machine, Ceramic hot plate.

Upholstery:
4 Cockpit Cushions, 6 Instrument Cover.


IT
Disponibile dalla fine della stagione 2021!

Strumentazione elettronica di navigazione:
AIS, Angolo barra, 2 Bussola, Cronometro, 3 Display, DSC vhf, Pilota automatico (Raymarine), 2 Plotter con antenna GPS (Raymarine).

Allestimento tecnico e di coperta:
Allarme motore, Allarme sentina, 2 Ancora (Jumbo), Autoclave, 10 Batterie, Camminamenti laterali in teak, Doccia esterna, Doppia timoneria, Pannelli Solari, Passerella, Piattaforma, Pompa di sentina automatica, Pozzetto Teak, Presa 220V banchina, Salpa Ancore Elettrico, Scala reale, Scaletta da bagno, Supporto motore fuoribordo, Tender, Tientibene con cancelletti.

Dotazioni domestiche di bordo:
Boiler, 2 Prese interne 12v, 6 Prese interne 220v, Riscaldamento (Webasto), 4 WC marino manuale.

Dotazioni di sicurezza:
Barometro (+ Uhr), Binocolo, Carte nautiche, Cassetta di pronto soccorso, 8 Cinture di salvataggio (Automatik), Fuochi a mano a luce rossa, Razzi a paracadute a luce rossa, Riflettore Radar, Strumenti da carteggio.

Intrattenimento:
4 Altoparlanti, Stereo.

Accessori vele:
Attrezzatura Gennaker, Avvolgi Fiocco, Avvolgi Randa, Trasto randa.

Cucina ed elettrodomestici:
2 Frigorifero interno, 2 Frigorifero meccanico, Macchina caffè, Piastra in vetroceramica.

Tappezzerie:
4 Cuscineria Pozzetto, 6 Telo copriconsolle.


FR
Disponible à partir de la fin de la saison 2021 !

Appareillage électronique de navigation:
AIS, Indicateur d'angle de barre, 2 Compas, Montre de bord, 3 Moniteur, DSC VHF, Pilote automatique (Raymarine), 2 Plotter GPS (Raymarine).

Equipement technique et de pont supérieur:
Alarme moteur, Alarme de pompe de cale, 2 Ancre (Jumbo), Eau sous pression, 10 Batteries, Passavant en teck, Douche de cockpit, Double barre à roue, Panneau solaire, Passerelle, Plateforme arrière, Pompe de cale automatique, Cockpit en teck, Prise de quai, Guindeau électrique, Echelle de coupée, Echelle de bain, Chaise support HB, Annexe, Filières avec sortie latèrale.

Equipement domestique de bord:
Ballon d'eau chaude, 2 Prises interieures 12v, 6 Prises interieures 220v, Chauffage (Webasto), 4 Toilettes manuelles.

Equipement de sécurité:
Baromètre (+ Uhr), Jumelles, Cartes marines, Trousse à pharmacie, 8 Gilets de sauvetage (Automatik), Feux à main, Fusées parachutes, Réflecteur radar, Tableau à outils.

Divertissements:
4 Haut-parleurs, Hi-Fi.

Accessoires voiles:
Équipement Gennaker, Enrouleur de foc, Enrouleur de grand voile, barre d'écoute.

Cuisine et appareils électromenagers:
2 Réfrigérateur intérieur, 2 Groupe froid, Machine a café, Plaque vitrocéramique.

Tapisserie:
4 sellerie de cockpit, 6 Taud de console.


DE
Verfügbar ab Ende der Saison 2021!

Navigation elektronische Instrumentation:
AIS, Ruderlageanzeiger, 2 Kompass, Chronometer, 3 Display, DSC UKW, Autopilot (Raymarine), 2 Kartenplotter mit GPS (Raymarine).

Deck und technische Ausrüstung:
Motoralarm, Bilgealarm, 2 Anker (Jumbo), Druckwasserpumpe, 10 Batterien, Teak auf Laufdecks, Cockpitdusche, Doppelsteueranlage, Solarpanel, Gangway, Plattform, automatische Bilgepumpe, Teak im Cockpit, Landanschluß, elektrische Ankerwinde, Treppen zur Badeplattform, Badeleiter, Außenborder-Halterung, Beiboot, Relingsdurchstiege.

Anlagen an Bord:
Warmwasserbereiter, 2 12V Steckdose, 6 220V Steckdose, Heizung (Webasto), 4 manuelles WC.

Sicherheitsausrüstung:
Barometer (+ Uhr), Fernglas, Seekarten, Erste Hilfe Kasten, 8 Rettungswesten (Automatik), Seenotfackeln, Seenotsignale, Radar-Reflektor, Kartenbesteck.

Unterhaltung:
4 Lautsprecher, Stereoanlage.

Zubehör Sails:
Gennaker-Ausrüstung, Rollfockanlage, Rollgross, Grosschottraveller.

Küchen-und Haushaltsgeräte:
2 Kühlschrank, 2 Kompressor Kühlschrank, Kaffeemaschine, Ceran-Kochfeld.

Polsterung:
4 Cockpitpolster, 6 Instrumenten Abdeckung.


ES
¡Disponible desde el final de la temporada 2021!

Instrumentación electrónica de navegación:
AIS, Indicado de ángulo de timón, 2 Compás, Cronómetro, 3 Pantalla, VHF con DSC, Piloto automático (Raymarine), 2 Plotter con antena GPS (Raymarine).

Equipo técnico y de cubierta:
Alarma motor, Alarma sentina, 2 Ancla (Jumbo), Bomba de agua dulce, 10 Baterías, Pasillos laterales en teca, Ducha externa, Doble rueda de timón, Pannelli Solari, Pasarela, Plataforma, Bomba de achique automática, Bañera en teca, Toma de 220V para el puerto, Molinete eléctrico, Escalera real, Escalera de baño, Soporte motor fueraborda, Auxiliar, Guardamancebos con entradas.

Enseres domesticos de abodo:
Calentador, 2 Tomas de 12v, 6 Enchufes de 220v, Calefacción (Webasto), 4 WC marino manual.

Equipo de seguridad:
Barómetro (+ Uhr), Prismáticos, Cartas náuticas, Botiquín, 8 Chalecos salvavidas (Automatik), Bengalas de mano, Bengalas con paracaídas a la luz roja, Reflector Radar, Mesa de cartas.

Entretenimiento:
4 Altavoces, Stereo.

Accesorios Velas:
Maniobra Genaker, Enrollador de foque, Enrollador de mayor, Caro de escota de mayor.

Cocina y electrodomésticos:
2 Frigorífico, 2 Frigorífico mecánico, Máquina de café, Placa vitrocerámica.

Tapicerías:
4 Cojinería bañera, 6 Funda cónsola.


RU
Доступно с конца сезона 2021 года!

Электронные навигационные приборы:
AIS, Угол поворота, 2 Компас, chronometer, 3 Display, DSC, Автопилот (Raymarine), 2 Плоттер с GPS антенны (Raymarine).

Техническое оснащение и оснащение палубы:
Аварийный сигнал двигателя, Аварийный сигнал трюма, 2 Якорь (Jumbo), Автоклав, 10 аккумуляторы, Боковые проходы из тика, внешняя душа, Двойной штурвал, Pannelli Solari, сходни, Платформа, Автоматический трюмный насос, Колодец из тика, Прямая розетка от причала, Электрическая якорная лебедка, Заборный трап, Трап ванной, Устройство двигателя за бортом, Тендер, guard rails with gates.

Бытовое оснащение на борту:
котлом, 2 Внутренние розетки 12v, 6 Внутренние розетки 220v, Отопление (Webasto), 4 Ручной морской туалет.

Оборудование для обеспечения безопасности:
барометр (+ Uhr), бинокль, Навигационные карты, Аптечка первой помощи, 8 Спасательные жилеты (Automatik), Ручные вспышки красного света, Парашют ракеты в светло-красного, Радар, Инструменты График.

Развлечения:
4 динамиков, Привет-Fi.

Аксессуары паруса:
Генакер оборудование, Устройство кливер, Устройство для гафельного паруса, Mainsheet traveller.

Кухня и бытовые приборы:
2 Внутренний холодильник, 2 Холодильник механического типа, Кофеварка, Керамическая плита.

Обивка:
4 Кокпит подушки, 6 Защитное покрытие консоли.



Details
---
Position only approximate, not for directions
General information
Make:
Jeanneau
Model:
SUN ODYSSEY 469
Year:
2012
Condition:
Used
Engine
Engine:
Yanmar 4JHS-CE, 54 hp
Fuel type:
Diesel
Fuel tank:
240 l (63.40 gal)
Measurements
Length:
13.65 m (44.78 ft)
Beam:
4.49 m (14.73 ft)
Deep:
2.24 m (7.35 ft)
Weight:
10809 kg (23,829.37 lb)