Presented by
---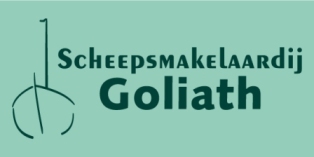 Sjoerd Kampen
Scheepsmakelaardij Goliath
Hendrik Bulthuisweg 2
8606 KB SNEEK
Netherlands
Description
---
Auto translate:
EN
Beautiful luxury Houseboat
The price is for the houseboat as shown on the pictures but without interior on the roof, without propulsion and without transport. Choice of floor is steel or concrete (ferro-cement) If you do not plan to sail, as an alternative package can be chosen for 1 engine of 30PK See the brochure in the annex.
Ask for more information at the Houseboat specialist Frans van der Houwen 0031(0)513-841729 / 0031(0)6-10255199.
General
Hull shape: Hull of Concrete
Steering system: Steering wheel: 2x
NL
Prachtige luxe Houseboat
De prijs is voor de houseboat zoals getoond op de afbeeldingen maar dan zonder interieur op het dak, zonder voortstuwing en zonder transport.  Keuze van de bodem is Staal of beton (ferro-cement) Als u niet van plan bent te gaan varen kan als alternatief vaarpakket ook gekozen worden voor 1 motor van 30PK Zie de brochure in de bijlage.
Vanaf-prijs Vraag voor meer informatie bij de Houseboat specialist Frans van der Houwen 0031(0)6-10255199.
Algemeen
Rompvorm: Romp van Beton
Besturing: Stuurwiel: 2x
DE
Schönes Luxus-Hausboot
Der Preis ist für das Hausboot, wie auf den Bildern gezeigt, aber ohne Interieur auf dem Dach, ohne Antrieb und ohne Transport. Wahl des Bodens ist Stahl oder Beton (Ferro-Zement) Wenn Sie nicht planen, zu segeln, als ein alternatives Paket kann für 1 Motor von 30PK gewählt werden Siehe die Broschüre im Anhang.
Fragen Sie nach weiteren Informationen bei dem Hausbootspezialisten Frans van der Houwen 0031(0)513-841729 / 0031(0)6-10255199.
Allgemein
Rumpfform: Hülle aus Beton
Steueranlage: Lenkrad: 2x
FR
Belle péniche de luxe
Le prix est pour le bateau habitable comme indiqué sur les photos mais sans intérieur sur le toit, sans propulsion et sans transport. Le choix du plancher est en acier ou en béton (ferro-ciment). Si vous ne prévoyez pas de naviguer, un autre forfait peut être choisi pour 1 moteur de 30PK Voir la brochure en annexe.
Demandez plus d'informations au spécialiste de la péniche Frans van der Houwen 0031(0)513-841729 / 0031(0)6-10255199.
Général
Forme: Coque de béton
Système de barre: Volant : 2x
Details
---
Position only approximate, not for directions
General information
Make:
Houseboat
Model:
The Yacht House 180
Year:
2022
Condition:
New
Engine
Engine type:
Inboard engine
Measurements
Length:
14.95 m (49.05 ft)
Beam:
7 m (22.97 ft)
Deep:
0.5 m (1.64 ft)