Presented by
---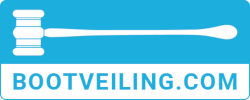 Jeroen Bolweg
BOOTVEILING.COM
Rubberstraat 9
1411 AL NAARDEN
Netherlands
Description
---
Auto translate:
EN
The asking price is the starting price of the online auction. Bid until May 31 at www.bootveiling.com
This very authentic ex-Rijkswaterstaat vlet from 1967 comes from the yard Van der Molen & Zn in Zaandam. The ship has a GM 6V71 engine with 6 cylinders from 1985. The vlet is in 2019 and 2020 internally renovated and converted into beautiful nostalgic ship that can serve both as a houseboat, pleasure yacht and also as a service ship because of the SI approval.

So you can go either way with this. The outside of the ship needs a lick of paint, but technically and engine wise the ship is in good condition.

On board is central heating through a Kabola boiler on diesel, and a pellet stove. The ship has no bow thruster, but this can easily be built in. Underwater hull painted and antifouling in 2018. Overwater hull partly painted in 2019, but needs further attention. There is a possibility to build in a shower. Superstructure is made of steel. The ship has two living levels. Above is the wheelhouse which also serves as a living room (headroom 195-200 cm). Below, the ship has 2 large sleeping cabins (headroom 1m90), a hallway with toilet and closet and a large kitchen (headroom 2m50) with train seat. In the large engine room is a 6-cylinder GM 6V71 engine from 1985. There is also a generator and a separate engine for the hydraulics. The Kabola central heating boiler is also located here. The electricity network is 24V and there is also an ample supply of 230V sockets that can also function in the absence of shore power because of the 3000W inverter. The ship currently has 4x180A batteries and a separate battery for the generator and the hydraulic engine. On board there is a built-in AIS, marine radio and radio/CD player. Also, the vessel has a depth sounder and a steering gear.

This vlet is in 2020 SI approved and can therefore also be used as a workboat.


 
Viewing day
The viewing day for this Ex- Rijkswaterstaat punt is on Sunday 30 May 2021 between 10 and 12 am in Barendrecht (Netherlands).
Engine, electrics, water
Other:
Steering machine in wheelhouse, extra engine for hydraulics
Equipment
Other:
The exterior of the ship needs to be painted
NL
De vraagprijs is het startbedrag van de online veiling. Bied mee tot 31 mei op www.bootveiling.com
Deze zeer authentieke ex-Rijkswaterstaat vlet uit 1967 komt van de werf Van der Molen & Zn in Zaandam. Het schip heeft een GM 6V71 motor met 6 cilinders uit bouwjaar 1985. De vlet is in 2019 en 2020 intern gerenoveerd en omgebouwd tot prachtig nostalgisch schip dat zowel dienst kan doen als woonschip, plezierjacht en ook nog als dienstschip vanwege de SI keuring.

U kunt hier dus alle kanten mee op. De buitenzijde van het schip dient wel een likje verf te krijgen, technisch en motorisch is het schip in goede staat.

Aan boord is centrale verwarming middels een Kabola CV ketel op diesel, evenals een pelletkachel. Het schip heeft geen boegschroef, maar deze kan eenvoudig ingebouwd worden. Onderwaterschip geverfd en antifouling in 2018. Bovenwaterschip deels geverfd in 2019, maar dient verder opgepakt te worden. Er is een mogelijkheid voor het inbouwen van een douche. Opbouw is van staal. Het schip heeft twee woonlagen. Boven bevindt zich de stuurhut die tevens dienst doet als woonkamer (stahoogte 195-200 cm). Onder heeft het schip 2 grote slaaphutten (stahoogte 1m90), een halletje met toilet en inbouwkast en een grote keuken (stahoogte 2m50) met treinzit. In de grote machinekamer staat een 6-cilinder GM 6V71 motor uit 1985. Verder is er een generator aanwezig en een aparte motor die de hydrauliek bedient. Ook de Kabola CV ketel staat hier. Het elektriciteitsnet is 24V en tevens is er een ruime aanwezigheid van 230V stopcontacten die ook kunnen functioneren bij gebrek aan walstroom vanwege de 3000W omvormer. Het schip heeft momenteel 4x180A accu's en een aparte accu voor de generator en de hydrauliek motor. Aan boord is er een ingebouwde AIS, marifoon en radio/CD speler. Tevens beschikt het schip over een dieptemeter en een stuurmachine.

Deze vlet is in 2020 SI gekeurd en kan dus ook als werkschip ingezet worden.
Kijkdag
De kijkdag voor deze Ex- Rijkswaterstaat vlet is op zondag 30 mei 2021 tussen 10 en 12 uur in Barendrecht (Nederland).
Motor, electra, water
Overig:
Stuurmachine in stuurhut, extra motor voor hydrauliek
Uitrusting
Overig:
De buitenkant van het schip dient geverfd te worden
DE
Die Preisvorstellung ist der Startpreis der Online-Auktion. Bieten Sie bis zum 31. Mai unter www.bootveiling.com
Dieses sehr authentische Ex-Rijkswaterstaat-Vlet von 1967 kommt von der Werft Van der Molen & Zn in Zaandam. Das Schiff hat einen GM 6V71 Motor mit 6 Zylindern aus dem Jahr 1985. Die Vlet wurde in den Jahren 2019 und 2020 von innen renoviert und zu einem schönen nostalgischen Schiff umgebaut, das sowohl als Wohnschiff, Vergnügungsyacht und aufgrund der SI-Zulassung auch als Serviceschiff dienen kann.

Sie können damit also in beide Richtungen gehen. Das Äußere des Schiffes braucht einen neuen Anstrich, aber technisch und motorisch ist das Schiff in gutem Zustand.

An Bord gibt es eine Zentralheizung mittels eines Kabola-Kessels auf Diesel, sowie einen Pelletofen. Das Schiff hat kein Bugstrahlruder, aber das kann leicht installiert werden. Unterwasserschiff gestrichen und Antifouling in 2018. Überwasserschiff teilweise gestrichen in 2019, muss aber weiter bearbeitet werden. Es besteht die Möglichkeit, eine Dusche einzubauen. Die Aufbauten sind aus Stahl gefertigt. Das Schiff hat zwei Wohnebenen. Darüber befindet sich das Steuerhaus, das auch als Wohnzimmer dient (Stehhöhe 195-200 cm). Unten hat das Schiff 2 große Schlafkabinen (Stehhöhe 1m90), einen Flur mit Toilette und Kleiderschrank und eine große Küche (Stehhöhe 2m50) mit Zugsitz. Im großen Motorraum befindet sich ein 6-Zylinder GM 6V71 Motor von 1985. Außerdem gibt es einen Generator und einen separaten Motor für die Hydraulik. Hier befindet sich auch der Kessel der Kabola Zentralheizung. Das Stromnetz ist 24V und es gibt auch genügend 230V-Steckdosen, die wegen des 3000W-Wechselrichters auch ohne Landstrom funktionieren können. Das Schiff verfügt derzeit über 4x180A Batterien und eine separate Batterie für den Generator und den Hydraulikmotor. An Bord befinden sich ein eingebautes AIS, ein Schiffstelefon und ein Radio/CD-Player. Außerdem verfügt das Schiff über einen Tiefenmesser und eine Steuermaschine.

Dieser Kahn ist 2020 SI-zugelassen und kann somit auch als Arbeitsschiff eingesetzt werden.


 
Tag anzeigen
Der Besichtigungstag für diesen Ex- Rijkswaterstaat-Kahn ist am Sonntag, den 30. Mai 2021 zwischen 10 und 12 Uhr in Barendrecht (Niederlande).
Motor, Elektrik, Wasser
Sonstiges:
Steuermaschine im Steuerhaus, Zusatzmotor für Hydraulik
Zubehören
Sonstiges:
Das Äußere des Schiffes muss gestrichen werden
FR
Le prix demandé est le prix de départ de l'enchère en ligne. Enchères jusqu'au 31 mai à www.bootveiling.com
Ce très authentique ex-Rijkswaterstaat vlet de 1967 provient du chantier Van der Molen & Zn à Zaandam. Le navire a un moteur GM 6V71 à 6 cylindres de l'année 1985. Le vlet a été rénové intérieurement et transformé en 2019 et 2020 en un beau navire nostalgique qui peut servir à la fois de navire de séjour, de yacht de plaisance et aussi de navire de service grâce à l'agrément SI.

Donc tu peux aller dans les deux sens avec ça. L'extérieur du navire a besoin d'un coup de peinture, mais techniquement et au niveau des moteurs, le navire est en bon état.

A bord, il y a un chauffage central au moyen d'une chaudière Kabola au diesel, ainsi qu'un poêle à granulés. Le navire n'a pas de propulseur d'étrave, mais celui-ci peut facilement être intégré. Coque immergée peinte et antifouling en 2018, coque immergée partiellement peinte en 2019, mais nécessitant des travaux supplémentaires. Il est possible de construire une douche. La superstructure est en acier. Le navire dispose de deux niveaux de vie. Au-dessus se trouve la timonerie qui sert également de salon (hauteur libre 195-200 cm). En bas, le navire dispose de 2 grandes cabines de couchage (hauteur sous plafond de 1m90), d'un couloir avec toilettes et placard et d'une grande cuisine (hauteur sous plafond de 2m50) avec siège de train. Dans la grande salle des machines se trouve un moteur 6 cylindres GM 6V71 de 1985. Il y a également un générateur et un moteur séparé pour l'hydraulique. La chaudière du chauffage central Kabola se trouve également ici. Le réseau électrique est de 24V et il y a également de nombreuses prises de 230V qui peuvent également fonctionner en l'absence de courant de quai grâce à l'onduleur de 3000W. Le navire dispose actuellement de batteries de 4x180A et d'une batterie séparée pour le générateur et le moteur hydraulique. A bord, il y a un AIS intégré, un téléphone marin et une radio/lecteur CD. Le navire est également équipé d'un profondimètre et d'une machine à gouverner.

Cette barque est homologuée SI en 2020 et peut donc également être utilisée comme navire de travail.


 
Jour de visionnement
Le jour d'exposition de ce bateau de plaisance de l'ex-Rijkswaterstaat est le dimanche 30 mai 2021 entre 10 et 12 heures à Barendrecht (Pays-Bas).
Moteur, électricité, eau
Autre:
Machine de direction dans la timonerie, moteur supplémentaire pour l'hydraulique
Equipement
Autre:
L'extérieur du navire doit être peint