Presented by
---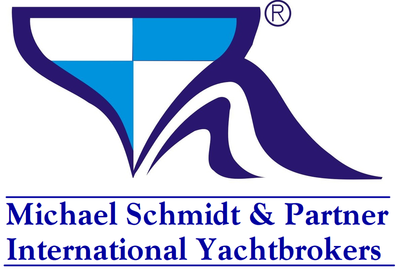 Jan Spengler
Michael Schmidt & Partner Yachthandels GmbH
Rübekamp 5
25421 Pinneberg
Germany
Description
---
Auto translate:
EN
complete overhaul in 2015 by German boatbuilder including varnishing of hull, deck and superstructure + masts, 5 layers epoxy on hull, new Burma teak decks 16 mm, upholstery, stove, anchor windlass 1.500 W,
generator Fischer Panda 5000i from 2011, sails new in 2014, new forestay 2016, broad band radar 2012, new sun awnings 2015
It is also possible to purchase just a share and become co-owner!

Electronic tools for navigation:
Radar Antenna (2012), DSC vhf (2014), Radar (broad band 2012).

Staging and technical:
Water pressure pump, Deck Shower, Auxiliary Engine, Gangway, Automatic Bilge Pump, Manual Bilge Pump, Shorepower connector, Electric Windlass (2015 1.500 W), swimming ladder, cockpit table, Tender, Windex.

Domestic Facilities onboard:
Warm Water System, 12V Outlets, 220V Outlets, Manual Toilet.

Entertainment:
Speakers, Hi-Fi.

Sails accessories:
Jib Furling System, Ball bearing slider mainsail, Lazy Bag, Lazy Jack, Staysail forestay, Mainsheet traveller, Rod Kicker.

Kitchen and appliances:
Galley, Burner.

Upholstery:
Cockpit Cushions.


IT
imbarcazione completamente rifatta 2015 da maestro d'ascia tedesco, scafo, coperta, tuga e armamento riverniciato, 5 mani epoxy su opera viva, Burma teak in coperta 16 mm, cuscineria, forno/fornella, salpancora 1.500 W,
generatore Fischer Panda 5000i 2011, vele nuove HYDE in 2014, strallo di prua 2016, broad band radar 2012, cagnaro 2015
possibilità di diventare co-proprietario!

Strumentazione elettronica di navigazione:
Antenna radar (2012), DSC vhf (2014), Radar (broad band 2012).

Allestimento tecnico e di coperta:
Autoclave, Doccia esterna, Motore ausiliario, Passerella, Pompa di sentina automatica, Pompa di sentina manuale, Presa 220V banchina, Salpa Ancore Elettrico (2015 1.500 W), Scaletta da bagno, Tavolo pozzetto, Tender, Windex.

Dotazioni domestiche di bordo:
Boiler, Prese interne 12v, Prese interne 220v, WC marino manuale.

Intrattenimento:
Altoparlanti, Stereo.

Accessori vele:
Avvolgi Fiocco, Carrelli a sfera randa, Lazy Bag, Lazy Jack, Strallo di Trinchetta, Trasto randa, Vang.

Cucina ed elettrodomestici:
Cucina, Fornello.

Tappezzerie:
Cuscineria Pozzetto.


FR
complètement refait 2015 par le charpentier de marine allemand, coque, pont, pont de bateau et l'armement repeint, 5 époxy de mains sur la coque, Birmanie Teck sur 16 mm, coussin, four/fen de pont, guindeau 1 500 W, générateur Fischer Panda 5000i 2011, nouvelles voiles Hyde, en 2014, 2016 étai, large bande radar 2012, 2015 d'écoutilles
possibilité de devenir copropriétaire !

Appareillage électronique de navigation:
Antenne radar (2012), DSC VHF (2014), Radar (broad band 2012).

Equipement technique et de pont supérieur:
Eau sous pression, Douche de cockpit, Moteur d'annexe, Passerelle, Pompe de cale automatique, Pompe de cale manuelle, Prise de quai, Guindeau électrique (2015 1.500 W), Echelle de bain, table de cockpit, Annexe, Windex.

Equipement domestique de bord:
Ballon d'eau chaude, Prises interieures 12v, Prises interieures 220v, Toilettes manuelles.

Divertissements:
Haut-parleurs, Hi-Fi.

Accessoires voiles:
Enrouleur de foc, Chariots à bille de GV, Lazy Bag, Lazy Jack, Etai de trinquette, barre d'écoute, halebas rigide.

Cuisine et appareils électromenagers:
Cuisine, Cuisinière.

Tapisserie:
sellerie de cockpit.


DE
Renovierung in 2015 durch deutschen Bootsbaumeister inkl. Neulackierung Rumpf, Deck, Aufbau und Masten, 5 Lagen Epoy Unterwasserschiff, neues Burma teak deck 16 mm, Polsterung, Hers/Ofen, Ankerwinde 1.500 W,
Generator Fischer Panda 5000i aus 2011, neue HYDE Segel 2014, Vorstag 2016, broad band radar 2012, neue Sonnensegel 2015.
Es besteht die Moeglichkeit Miteigner durch Kauf eines Anteils zu werden.

Navigation elektronische Instrumentation:
Radarantenne (2012), DSC UKW (2014), Radar (broad band 2012).

Deck und technische Ausrüstung:
Druckwasserpumpe, Cockpitdusche, Hilfsmotor, Gangway, automatische Bilgepumpe, manuelle Bilgepumpe, Landanschluß, elektrische Ankerwinde (2015 1.500 W), Badeleiter, Cockpittisch, Beiboot, Windex.

Anlagen an Bord:
Warmwasserbereiter, 12V Steckdose, 220V Steckdose, manuelles WC.

Unterhaltung:
Lautsprecher, Stereoanlage.

Zubehör Sails:
Rollfockanlage, kugelgelagerte Mastrutscher, Lazy Bag, Lazy Jack, Kutterstag, Grosschottraveller, Starrer Baumniederholer.

Küchen-und Haushaltsgeräte:
Pantry, Herd.

Polsterung:
Cockpitpolster.


ES
barco totalmente renovado 2015 por Carpintero alemán, casco, cubierta, cubierta y armamento repintados, 5 manos de epóxido en casco, Teka de Birmania cubierta de 16 mm, amortiguador, horno/fen, Molinete 1.500 W, Fischer Panda generador 5000i 2011, velas nuevas Hyde en el 2014, 2016 estay, radar de banda ancha 2012, tapas de escotillas de 2015
posibilidad de convertirse en copropietario.

Instrumentación electrónica de navegación:
Antena de radar (2012), VHF con DSC (2014), Radar (broad band 2012).

Equipo técnico y de cubierta:
Bomba de agua dulce, Ducha externa, Motor auxiliar, Pasarela, Bomba de achique automática, Bomba de achique manual, Toma de 220V para el puerto, Molinete eléctrico (2015 1.500 W), Escalera de baño, mesa de bañera, Auxiliar, Windex.

Enseres domesticos de abodo:
Calentador, Tomas de 12v, Enchufes de 220v, WC marino manual.

Entretenimiento:
Altavoces, Stereo.

Accesorios Velas:
Enrollador de foque, Carros para guía de vela mayor, Lazy Bag, Lazy Jack, Estay de Trinquete, Caro de escota de mayor, Contra rígida.

Cocina y electrodomésticos:
Cocina, Fogón.

Tapicerías:
Cojinería bañera.


RU
Лодка полностью переделано 2015 по судомоделизму немецкий, корпуса, палубы, палубы и вооружение перекрасили, 5 эпоксидная руки на корпус, Бирма, тик на палубе 16 мм, подушки, духовка/болот, лебедку 1500 Вт, генератор Panda Фишер 5000i 2011, новые паруса Гайд в 2014 году, 2016 forestay, широкая полоса радар 2012, 2015 люков
возможность стать совладельцем!

Электронные навигационные приборы:
антенна РЛС (2012), DSC (2014), Радар (broad band 2012).

Техническое оснащение и оснащение палубы:
Автоклав, внешняя душа, Вспомогательный двигатель, сходни, Автоматический трюмный насос, Ручной трюмный насос, Прямая розетка от причала, Электрическая якорная лебедка (2015 1.500 W), Трап ванной, cockpit table, Тендер, Windex.

Бытовое оснащение на борту:
котлом, Внутренние розетки 12v, Внутренние розетки 220v, Ручной морской туалет.

Развлечения:
динамиков, Привет-Fi.

Аксессуары паруса:
Устройство кливер, Ball bearing slider mainsail, Lazy Bag, Джек лениво, Стаксель форштаг, Mainsheet traveller, Жесткий Ванг.

Кухня и бытовые приборы:
Кухня, плитой.

Обивка:
Кокпит подушки.



Details
---
Position only approximate, not for directions
General information
Make:
Cherubini Boat Company
Model:
CHERUBINI 44 KETCH
Year:
1983
Condition:
Used
Engine
Engine:
Yanmar, 75 hp
Fuel type:
Diesel
Fuel tank:
240 l (63.40 gal)
Measurements
Length:
15.8 m (51.84 ft)
Beam:
3.93 m (12.89 ft)
Deep:
1.4 m (4.59 ft)
Weight:
15000 kg (33,068.78 lb)