Presented by
---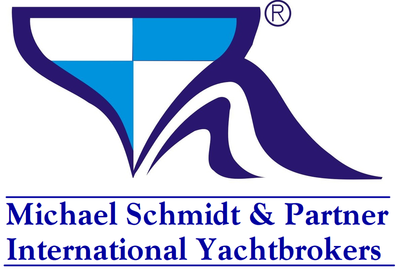 Jan Spengler
Michael Schmidt & Partner Yachthandels GmbH
Rübekamp 5
25421 Pinneberg
Germany
Description
---
Auto translate:
EN
Update you about the conditions and the works made on the boat during the last restoration period, already finished in January 2021.
https://drive.google.com/drive/folders/1KQp9Gmg5w7udnpx1p7oRxMTLKFayU7ET?usp=sharing
With the last restoration process, other improvements have been made to the boat, such as:
- Replacement of all the portholes.
- Chrome plating of all the metal parts of the deck.
- New paint for the masts.
- New paint for all the wooden parts both on the deck and also inside the boat.
- New paint also for the fridge.
- Application of new dinette upholstery.
- Sanding and painting of the entire internal flooring.
boat professionally maintained and completely redone from 2009 to 2014 Incl. new teak deck, bow thruster, electronics, sails, 2013 engine overhauld,
Instrumentation:
All Electronics 2010, bow thruster 2009
Equipment:
air conditioning, heating, generator
Interior:
solid teak Interior
Sails:
jib, storm jib, jib stay sail

Staging and technical:
Water pressure pump, Deck Shower, Electric Windlass.

Domestic Facilities onboard:
Warm Water System.

Sails accessories:
Jib Furling System.

Kitchen and appliances:
Galley.


IT
imbarcazione professionalmente e completamente rifatta dal 2009 al 2020 incl. coperta in teak nuova, elica di prua, elettronica, vele, revisione motore 2013
https://drive.google.com/drive/folders/1KQp9Gmg5w7udnpx1p7oRxMTLKFayU7ET?usp=sharing
Strumentazione elettronica FURUNO 2010, elica di prua 2009
Attrezzature : ariacondizionata, riscaldamento, generatore
Interni: interni in teak massello
Vele: fiocco, tormentina, vela di strallo

Allestimento tecnico e di coperta:
Autoclave, Doccia esterna, Salpa Ancore Elettrico.

Dotazioni domestiche di bordo:
Boiler.

Accessori vele:
Avvolgi Fiocco.

Cucina ed elettrodomestici:
Cucina.


FR
bateau avec professionnalisme et complètement refaite de 2009 à 2014 Inc. Nouvelle terrasse en teck, propulseur d'étrave, électronique, voiles, révision du moteur de 2013
Instrumentation :
Toute l'électronique 2010, propulseur d'étrave 2009
Equipement :
air conditionné, chauffage, génératrice
Intérieur :
teck massif intérieur
Voiles :
foc, Tourmentin, Foc séjour voile

Equipement technique et de pont supérieur:
Eau sous pression, Douche de cockpit, Guindeau électrique.

Equipement domestique de bord:
Ballon d'eau chaude.

Accessoires voiles:
Enrouleur de foc.

Cuisine et appareils électromenagers:
Cuisine.


DE
Das Boot professionell und völlig neu gestaltete 2009-2014 inkl. neues Teakdeck, Segel, Bugstrahlruder, Elektronik, Motor ueberholt in 2013
https://drive.google.com/drive/folders/1KQp9Gmg5w7udnpx1p7oRxMTLKFayU7ET?usp=sharing
Instrumente:
Alle 2010 Elektronik, bow Thruster 2009
Ausstattung:
Klimaanlage, Heizung, generator
Innenraum:
Solid Teak Interieur

Deck und technische Ausrüstung:
Druckwasserpumpe, Cockpitdusche, elektrische Ankerwinde.

Anlagen an Bord:
Warmwasserbereiter.

Zubehör Sails:
Rollfockanlage.

Küchen-und Haushaltsgeräte:
Pantry.


ES
en barco profesionalmente y completamente rehecho desde 2009 a 2014 Inc. nueva cubierta de teca, hélice de proa, electrónica, velas, reacondicionamiento motor 2013
instrumentación:
Toda la electrónica 2010, hélice de proa 2009
Equipo:
aire acondicionado, calefacción, generador de
Interior:
teca maciza Interior
Velas:
foque, foque de tormenta, horca estancia vela

Equipo técnico y de cubierta:
Autoclave, Ducha externa, Molinete eléctrico.

Enseres domesticos de abodo:
Calentador.

Accesorios Velas:
Enrollador de foque.

Cocina y electrodomésticos:
Cocina.


RU
лодка, профессионально и полностью переделано от 2009 до 2014 Inc. Новый тик Палуба, Подруливающее, электроника, паруса, капитальный ремонт двигателя 2013
инструментирования:
Все Электроника подруливающее 2009, 2010
Оборудование:
Кондиционер, Отопление, генератор
Интерьер:
твердом teak интерьер
Паруса:
стрелы, шторм стреловые, стреловые стаксель

Техническое оснащение и оснащение палубы:
Автоклав, внешняя душа, Электрическая якорная лебедка.

Бытовое оснащение на борту:
котлом.

Аксессуары паруса:
Устройство кливер.

Кухня и бытовые приборы:
Кухня.



Details
---
Position only approximate, not for directions
General information
Make:
Cheoy Lee
Model:
Clipper Ketch 48
Year:
1979
Condition:
Used
Engine
Engine:
Perkins-Sabre T80 Prima, 80 hp
Fuel type:
Diesel
Fuel tank:
300 l (79.25 gal)
Measurements
Length:
16.75 m (54.95 ft)
Beam:
3.96 m (12.99 ft)
Deep:
1.8 m (5.91 ft)