Presented by
---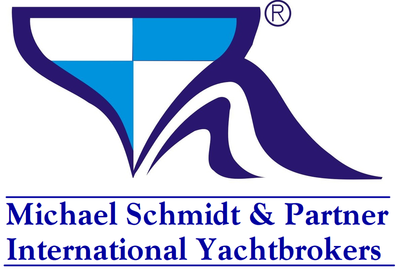 Jan Spengler
Michael Schmidt & Partner Yachthandels GmbH
Rübekamp 5
25421 Pinneberg
Germany
Description
---
Auto translate:
EN
Desalination plant / detailed specification on request!
Oven, hob, refrigerator, freezer, washing machine, dryer, Grill
Desalination plant
Anchor 2 x 200 kg HHP, anchor chain length galvanized 2 x 137 Ø 19, electric bilge pump, mechanical bilge pump, electrical wind let 2 x
Batteries, on-board power supply, shore power, battery charger, generator
Life raft number of persons 4 x 8, life jacket number 16, signal horn
Bow thruster, boat lift, radio, TV, TV-antenna, wet bar, cockpit speaker
Detailed specification on request!

Entertainment:
TV (antenna).

Kitchen and appliances:
Dryer.


IT
Impianto di dissalazione dettagliate specifiche su richiesta!
Forno, piano cottura, frigorifero, congelatore, lavatrice, asciugatrice, Grill
Impianto di dissalazione
Ancoraggio 2 x 200 kg HHP, lunghezza catena di ancoraggio zincato Ø 2 x 137 19, pompa di sentina elettrica, pompa di sentina meccanica, vento elettrico lasciato x 2
Batterie, rete di bordo, presa di banchina, caricabatterie, generatore
Zattera di salvataggio numero di persone 4 x 8, giubbotto numero 16, corno del segnale
Bow thruster, barca ascensore, radio, TV, antenna TV, angolo bar, altoparlanti pozzetto
Specifica dettagliata su richiesta!

Intrattenimento:
TV (antenna).

Cucina ed elettrodomestici:
Asciugatrice.


FR
Usine de dessalement / détaillée des spécifications sur demande !
Four, plaque de cuisson, réfrigérateur, congélateur, lave-linge, sèche-linge, Grill
Usine de dessalement
2 x 200 kg HHP, longueur d'ancrage de la chaîne d'ancre galvanisé Ø 2 x 137 19, pompe de cale électrique, pompe de cale mécanique, électrique éolienne que x 2
Batteries d'alimentation intégrée, prise de quai, chargeur de batterie, génératrice
Radeau de sauvetage nombre de personnes 4 x 8, gilet de sauvetage, numéro 16, signal avertisseur
Bow thruster, ascenseur à bateaux, radio, TV, antenne TV, wet-bar, haut-parleur du poste de pilotage
Spécifications détaillées sur demande !

Divertissements:
TV (antenna).

Cuisine et appareils électromenagers:
Sèche linge.


DE
Entsalzungsanlage / Ausführliche Spezifikation auf Anfrage !!!
Oven, Hob, Refrigerator, Freezer, Washing machine, Dryer, Grill
Entsalzungsanlage
Anchor 2x 200kg HHP, Anchor chain Verzinkt Length 2x 137 Ø 19, Electric bilge pump, Mechanical bilge pump, Electrical windlass 2x
Batteries, On-board power supply, Shore power, Battery charger, Generator
Life raft Number of persons 4x8, Life jacket Number 16, Signal horn
Bow thruster, Boat lift, Radio, TV, TV-antenna, Wet bar, Cockpit speaker
Ausführliche Spezifikation auf Anfrage !!!

Unterhaltung:
TV (antenna).

Küchen-und Haushaltsgeräte:
Trockner.


ES
Desaladora detallada especificación a petición!
Horno, encimera, refrigerador, congelador, lavadora, secadora, plancha
Planta desaladora
Ancla 2 x 200 kg HHP, longitud de la cadena del ancla galvanizada 2 x 137 Ø 19, bomba de achique eléctrica, bomba de achique mecánico, eléctrico viento deja x 2
Baterías, alimentación a bordo, toma de alimentación, cargador de batería, generador
Balsa salvavidas número de personas 4 x 8, chaleco salvavidas número 16, cuerno de señal
Bow thruster, ascensor, radio, TV, antena de TV, bar húmedo, cabina altavoz
Especificación detallada a petición!

Entretenimiento:
TV (antenna).

Cocina y electrodomésticos:
Secadora.


RU
Опреснительный завод / подробные спецификации по запросу!
Печь, плита, Холодильник, морозильник, Стиральная машина, сушилка, гриль
Опреснительный завод
Якорь 2 x 200 кг HHP, длина цепи анкер оцинкованный 2 x 137 Ø 19, Электрический трюмный насос, Трюмный насос механический, Электрический Ветер пусть 2 x
Батареи, встроенный источник питания, Шор власти, зарядное устройство, генератор
Плот количество лиц 4 x 8, спасательный жилет номер 16, сигнальный рожок
Носовой струйный руль, лодок, Радио, ТВ, TV-антенна, мокрый бар, кабины спикер
Подробная спецификация по запросу!

Развлечения:
ТВ (antenna).

Кухня и бытовые приборы:
сушилки.



Details
---
Position only approximate, not for directions
General information
Make:
Builder
Model:
40m Classic Motor Yacht
Year:
2011
Condition:
Used
Engine
Engine:
Caterpiller C18-C1 Turbolader, 714 hp
Fuel tank:
45333 l (11,975.75 gal)
Measurements
Length:
40 m (131.23 ft)
Beam:
7.26 m (23.82 ft)
Deep:
2.65 m (8.69 ft)
Weight:
278000 kg (612,874.78 lb)